Now in it's tenth year, Nearly 400 women have undertaken the Aspire Women's Leadership Development Programme. We asked several past participants why they chose the Aspire Programme and how they benefited from the programme.
Lisa Scanlan is Manager, BCC Administration at Wellington City Council. She had heard good things about the Aspire Programme and saw it promoted through the Council's Women's Network. Lisa was aware that challenging conversations was a key areas of leadership she was always working on. Kylie Ehrich, Service Manager, Ministry of Justice, was at a crossroads and was particularly interested in hearing more from a feminist perspective regarding leadership in the modern workplace. Nicci Stilwell is now Ambassador at the NZ Embassy in Colombia. Nicci wanted to learn with, and from, other women who were facing (or had faced) similar challenges in the workplace.
"I wanted to consider how women lead differently and learn to identify the particular pitfalls women faced and how to tackle them."
The Aspire Programme focuses uniquely on challenges women face in leadership
When Nicci took part in the Aspire programme she was a new and relatively young manger looking to lift her game.
In contrast, Kylie was frustrated that despite regular positive feedback and great performance reviews she was overlooked for some leadership opportunities. She was wondering "where to from here" and went into the course looking for a solution.
For Lisa it was about always looking to grow and develop: "It's a role you can never stop learning in."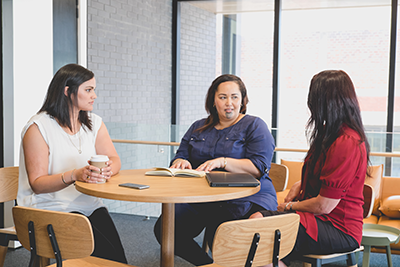 On the Aspire Programme you network with peers and learn from amazing guest speakers and alumni
A common thread from Aspire participants in the value from becoming part of such a supportive and inspiring alumni. Experiencing the weekly presentations from alumni and peer to peer learning inspired and supported Nicci to share my experiences and seek input from classmates. Lisa loved the guest speakers and hearing about their challenges, their inner critics and how they navigated their career pathways.
"I felt surrounded by women who actually really understood and valued vulnerability and honesty in leaders."
On the Aspire Programme you learn about yourself
Nicci: "I learnt that the only thing holding me back was myself! It inspired me to aim higher and not to be afraid to carve my own path. I took courage and inspiration from my course colleagues and began to "dream bigger."
Kylie: "I learnt that's its okay to question if I am still the right fit for my employer, and if my employer is still the right fit for me. Also, I had it reinforced that I am good at what I do. It was the first course I have done where I felt like it was absolutely for and about me, not about what I can do for my employer."
Lisa: "I learnt to be my authentic self, to back my confidence and ability more."
It will change how you see your life, your work, and your role in it
After being on the Aspire programme Nicci "got serious" about what she wanted from life – personally and professionally. Increased confidence in leading teams led to saying "yes" to more opportunities to broaden experiences and take on more responsibility. Nicci shared how she was able to realise her dream of starting a family and that it did not need to detract from her career aspirations.
The Aspire Programme gave Kylie the confidence boost needed to feel a lot more settled about her role and where she was heading. Lisa now has a better toolbox to assist navigating those difficult conversations.
So is the Aspire Programme for you?
Whether you're new to leadership, at a crossroads or looking to grow your capability toolbox Aspire is for you.
Lisa would recommend Aspire to any women leaders who will benefit from the great facilitators and energy. Alternatively, Kylie recommends it for any woman in leadership who is feeling a bit bruised by her leadership experiences, or equally, is feeling confused about whether it's all worth it (i.e. to be a woman in leadership).
Nicci says this is for people looking to be encouraged and inspired in a supportive, safe environment.
Organisations like the Ministry of Foreign Affairs and Trade, Wellington City Council and Ministry of Justice have internal networks supporting the development of women leaders and regularly send participants on the Aspire Women's Leadership Programme.
Look out for similar networks in your organisation or visit Aspire Women's Leadership Development Programme to find out when you can start the next programme and join the Aspire alumni network itself!