let's take a few steps back and look at your organisation and professional development...
It's been set up to achieve something pretty special. It might be brand new company testing fresh innovations with the market, scaling up, or an established player looking to exploit an advantageous position. You know what your purpose is and you've done the work building your strategy. Now what?
There's a pretty good chance your strategic review has discovered a few challenges and obstacles that need to be addressed. You're now thinking about the two "C's" of your biggest asset: your people. We're talking about the capability and capacity or you and your teams. Are you ready to engage effectively with the key stakeholders your strategy has mapped? Do you have the right skills to build effective teams? Is your customer facing digital content accessible? Accordingly, to action your strategic initiatives you'll need to address these, and many other, professional development questions!
Here we have the answer to the question. The capabilities of you and your teams are vital to the success of your organisation. Therefore, growing these is the most important investment decision your organisation will make, and don't investments go on the balance sheet?
Government departments or charities? The answer is exactly the same. For a charity the success of negotiations with potential philanthropic funders is vital to the success of your mission. for a government department you're faced with delivering on commitments to society and you need the right skills in your teams to make this happen. All that's different is the language we use. Impact. Outcomes. Profit. They're all different ways of describing how well we've met our commitments to society, to our funder, or to our shareholders.
The return on professional development
Now that we've established the link between professional development and organisational performance what's the return on this investment? Key findings from research undertaken by DeakinCo and Deloitte:
Benefit: Every $1 invested in Learning & Development (L&D) per employee is associated with an additional $4.70 in revenue per employee on average
Turnover: Leading L&D organisations reported an average attrition rate of 14 per cent. This compared to almost 25 per cent for organisations at the other end of the spectrum which is 1.8 times greater.
Prioritizing learning and development
Organisations agree that professional development is a priority and the amount of training has increased by 18% compared with pre-Covid although 87 per cent of businesses could do more to improve their L&D, with just 13 per cent of businesses found to be leaders in the space.
If you're ready to start prioritizing the capability of your team - but don't know where to start - you can get in touch to speak to one of our team of programme managers. We'll start the conversation with your objectives and share our knowledge of learning and development to help you achieve them.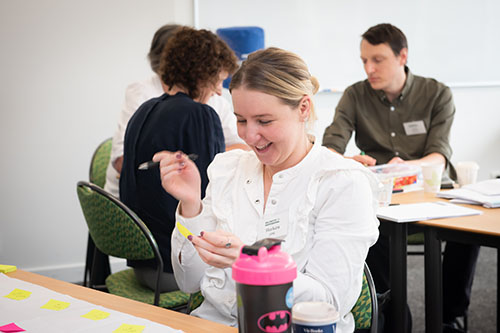 *We hope it's clear this is technically not accounting advice...although we do have a course for that.